"Shades of Gray is very good.  It was very well directed."
— Jim Sheridan, Oscar-nominated writer/director of 'My Left Foot'.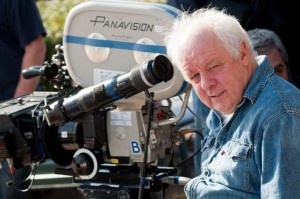 Image courtesy of Irish Film New York/Film Ireland
♦♦♦
"Fiona is a working professional with a great understanding of the complexities of making a good film. She has the abilities to be a key member of any creative team."
— Bruce A. Block, co-producer of Hollywood blockbuster 'What Women Want', Los Angeles.
 ♦♦♦
"Fiona Ashe has created in Shades of Gray a gem that reeks of the atmosphere of New York in the dead of night, a time when people die and others seek revenge."
— Peter Sheridan, award-winning writer/director of 'Borstal Boy'.
♦♦♦
"While working in Dublin, I met Fiona Ashe and was immediately impressed with her background, experience and skills as well as the depth and importance of her projects. The Irish directors that I have worked with have a special passion for storytelling and filmmaking. Fiona Ashe is also dedicated to telling stories that matter, that will make a difference."
— Mark W. Travis, Acting Coach on 'The Young Messiah'; Author of The Film Director's Bag of Tricks.
♦♦♦
"Fiona is a rising star as a writer/director – one to watch"
— Edwina Forkin, award-winning producer of 'Sanctuary'.
♦♦♦
"It has been my pleasure to know Fiona Ashe in a professional capacity for the last few years.  I can certainly vouch for her talent as a screenwriter and a director. I have no hesitation in labelling her a talent to watch and I look forward to the day when she wows us with her feature debut."
— David Gleeson, award-winning writer/director of 'The Front Line', 'Cowboys & Angels'.
♦♦♦
"As an international multi-award winning writer supported solely through my efforts in the screen industry I am acutely aware that when my script or treatment lands on the desk of a funding body or investor it has but one shot.  Therefore, to give it the best possible chance, I pass it through the filter of insightfulness, creativity and keen intelligence which is Fiona Ashe.  Without reserve, I recommend her to any position where her formidable talents in script editing and analysis can be called upon."
— Declan Cassidy, multi-award-winning writer/director, 'Whatever Turns You On'.
♦♦♦
"I feel very lucky to have been given Fiona's name to assist me as I worked on a film script of my novel. Fiona's approach was thorough, insightful and honest without being in any way unkind. It was clear that she read and assessed the script with a keen eye and ear, and her advice was crucial. Fiona also recommended several terrific books to help me on this, my first journey into scriptwriting. She has reviewed a further draft with equal professionalism and also had a conference call where each and every issue I had was fully addressed. I would very strongly recommend Fiona and am glad she is part of my ongoing review process." — Fran Russell Banks, Author of 'Blown Apart', winner of the Irish Writers' Novel Award 2016.
♦♦♦
"I am a professional screenwriter who has hired Fiona Ashe to edit two treatments and query letters for agents and production companies. She is a very talented script editor who helped guide my treatments into solid scripts. I would gladly recommend her to anyone seeking help with their work." — Eileen McAuley, commissioned scriptwriter.
To collaborate with acclaimed director, screenwriter and script editor Fiona Ashe on your project, click here to contact her.