Directing Expertise
Click here to watch Fiona Ashe's Director's Showreel on the homepage.
Stories That Make An Impact
Fiona specialises in films which are:
(a) are inspired by social issues that she researched during her career as a broadcast journalist, such as war, police brutality, global terrorism, political corruption, exploitation of natural resources, miscarriages of justice, suicide, racism, surrogacy, addiction, bullying, adoption, bereavement, destruction of heritage, and the pursuit of inclusion and equality.
(b) are hugely marketable because they:
are based on high concepts (and usually true stories)
have a gripping opening
always feature compelling characters
are full of complex, subtextual dialogue
have an impactful ending
Fiona Ashe — Film Directing Training
Diploma in Advanced Film Directing, New York Film Academy.
FETAC Certificate Level 6 in Visual Structure for Directors. Tutor: Bruce A. Block, Professor at the University of Southern California and co-producer of What Women Want, starring Mel Gibson and Helen Hunt.
Directors' Masterclasses taught by Spike Lee, Stephen Frears, Stanley Tucci, Mike Figgis, Anthony Minghella, Stephen Daldry, Wim Wenders, Mike Leigh, Alex Gibney, and Lesli Linka Glatter.
The Actor & Director In Rehearsal & Performance. Tutor: Mark W. Travis.
Staging For Camera. Tutor: Mark W. Travis.
Directing Intimate Scenes. Tutor: Ita O'Brien (UK).
Her directing skills are further enhanced by her experience in various production roles in television and on short films and corporate videos: editor, camera operator, sound editor, sound recordist, boom operator, casting director, production manager, first assistant director, and production assistant.
You Benefit From Worldwide Experience
Film director and screenwriter Fiona Ashe has:
taken extensive training in Ireland, the UK and the US
won awards for directing and screenwriting
screened movies in international festivals
secured distribution for her films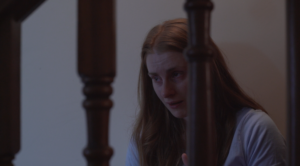 Directing Accolades
Renowned Filmmakers Endorse Her
"I was immediately impressed with Fiona Ashe's background, experience and skills as well as the depth and importance of her projects.  Her films are stunning, especially Shades of Gray.  She is dedicated to telling stories that matter, that will make a difference."
– Mark W. Travis, Acting Coach on The Young Messiah; Author of The Film Director's Bag of Tricks.

"Shades of Gray was very good.  It was very well directed."
– Jim Sheridan, Oscar-nominated filmmaker, My Left Foot.

"Fiona Ashe has created a gem that reeks of the atmosphere of New York in the dead of night, a time when people die and others seek revenge."
– Peter Sheridan, award-winning writer/director, Borstal Boy.

"Fiona is a working professional with a great understanding of the complexities of making a good film. She has the abilities to be a key member of any creative team."
– Bruce Block, Co-producer, What Women Want, Los Angeles.

"Fiona Ashe is a rising star … one to watch."
– Edwina Forkin, executive producer, Sanctuary.

"I can certainly vouch for her talent as a writer/director … a talent to watch."
– David Gleeson, co-writer, Tolkien.
Teamwork to Dream Work
If you also seek to make impactful films, click here to contact Fiona Ashe to:
produce her high concept, marketable films and TV dramas
start a creative collaboration on a new project
hire her as a director on your projects